Dear Dr. Goldberg,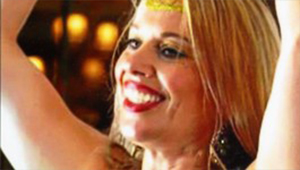 "You are the most competent doctor with a friendly approach, who turned my fears and sense of hopelessness into confidence and satisfaction. I was an ordinary patient of ordinary means, but your team took care of me as if I was the most important person on the Earth. If every doctor strives to be as caring and generous as you, the world would be filled with smiles and laughter instead of pain and fear. Thank you for everything.
Love,"
Sofiya G.
Photo on right
---
"Dr. Goldberg is an outstanding periodontist who I highly recommend. My dentist referred me to Dr. Goldberg's office about 15 years ago due to some dental complications after cancer chemotherapy and the onset of a moderate level of periodontal disease. I've had various dental/gum procedures including a dental implant performed by Dr. Goldberg, and his work is flawless. He is kind, caring, compassionate, personable, and truly the best of the best. Additionally, he has a great office staff!"
— Nick
---
"I am so impressed with Dr. David Goldberg. When you read his background and credentials, you know you are getting the best. But being under his care is what makes you know he is exceptional. In addition, Dr. Goldberg believes that putting in an implant should not be painful, and he proves the point. Also, with his and his staff's personality, expertise, amazing thoroughness, and step-by-step visuals and explanation of the procedure being done, he removes all anxiety. A great experience!"
— Kathleen
---
"Dr. Goldberg is very thorough about the care of his patients. He has even called me at home after he has evaluated my treatment and always calls the following day after any surgery to see how I'm doing. I highly recommend him."
— Nancy
---
"Dr. Goldberg is a very excellent dentist. He was able to extract two broken teeth and place an implant with little or no pain/discomfort. I highly recommend Dr. Goldberg."
— Joe
---
"From the moment I walked through the door, I knew I found the right doctor for me. Debbie was first to greet me and made me feel totally comfortable. When I met with Dr. Goldberg, most of my fears about visiting the dentist were put to rest, as he is a very caring person and that showed from day one. Dr. Goldberg and his wonderful staff guiding me through all my exams, cleaning, teaching, X-rays, and procedures and I will continue to have the best DMD in my life."
— Marsia
---
"I am extremely grateful that I was referred to see Dr. Goldberg a couple years ago. He is the absolute best at what he does and there is no need to look or travel any further than Cedar Street to find the kindest, most knowledgeable, and gentle DMD in the world. No, I am not exaggerating."
— Thomas
---
"I am beyond impressed with my experience at Dr. David Goldberg's office. Dr. Goldberg and his staff are all I could have hoped for in a dental office. If you are looking for an implant dentist whose medical knowledge is encyclopedic, and takes the time to be caring, you should consider Dr. Goldberg. The best dental doctor in my whole life."
— Tara
---
"Thank you again for being you. It is truly my pleasure to come to your office for my hygiene care."
— Bernadette K.
---
"Dear Dr. Goldberg,
"When my move made me switch to a new dental practice, I also had to see a new periodontist. I've long known that the level of care you provide is extraordinary, and after my first visit to my new periodontist, I wanted to share with you that he confirmed that, simply from viewing my X-ray. He asked who my periodontist was and told me that he could see that Dr. Goldberg is a gifted and conscientious doctor, a meticulous surgeon, and that my implant would remain healthy for the rest of my days. Thank you for your kind care."
— Joanne M.
---
"Dear David,
"It was so important that a critical moment when I faced such a difficult decision that I was not qualified to make, that I draw on the expertise of an old friend and expert who immediately took over and guided me to proceed in the most appropriate course of treatment. You were always there to respond to my need with no delay. You never made me feel that I was burdening you in spite of your very busy practice. Those many years that I sat in your dental chair, the recipient of your outstanding skill and knowledge, I was certain that I was in the best hands possible. You and I were always kindred souls. Thank you from the bottom of my heart. From the moment that I heard your voice on the phone, I knew everything would be all right."
— Morris S.
---
"I have nothing but positive things to say about Dr. Goldberg and his staff! I've been putting off having an implant done because I was so scared of the procedure, and now are smiling with satisfaction. Dr. Goldberg was very gentle, caring, and skilled. The actual procedure did not take long at all and I was back at work in a day. It truly makes a difference when you go to a skilled professional who has been doing this for over 20 years. I felt very comfortable and at ease. Jackie, his assistant, and Dr. Goldberg make a great team. I am so glad I went to Dr. Goldberg and would highly recommend him to everyone."
— Justyna L.
---
"Thank you, David. I appreciate the excellence you bring to the care of my patients and the level of humanity you exhibit in all your interactions as well. Thanks again,"
— Dr. M
---
"Dr. Goldberg carefully planned, explained and completed dental implant work for me that was very closely coordinated with my referring dentist. I found Dr. Goldberg to be most conscientious, dedicated, and caring. His knowledge and expertise, combined with a relaxed chair-side manner, instills patient confidence. The quality of this implant work is both aesthetically and functionally impressive. The professionalism of the office is also reflected in a very knowledgeable, courteous, and helpful staff."
— C. S.
---
"I am a 62-year-old woman who had a traumatic experience with my dentist as a 7-year-old and, in turn, developed tremendous fear of all dentists. Subsequently, I avoided dental care thereafter such that my teeth and gums deteriorated significantly. I consulted Dr. Goldberg and he recommended implants, which heightened my fears even more. However, his work was so caring and thorough that I went through the whole experience with insignificant pain and, above all, without fear. The implants have thoroughly improved my life and words cannot express how grateful I am to him."
— Judy B.
---
"Dr. Goldberg's implant procedures are excellent and can benefit people of any age. I am 79 years old and Dr. Goldberg placed four dental implants for me twelve years ago. It was one of the best decisions I have ever made. My implants enable me to enjoy all the foods I like and don't restrict me in any way. There is no cleaning or soaking involved like with dentures. You feel like you are flossing and brushing your own natural teeth. Implants don't harm my other teeth, unlike partials which can shift your natural teeth and damage them. My appearance has been transferred. giving me confidence in any special event. I have the smile of a 21-year-old again. My teeth have been refurbished, crowned, straightened, and held firm through the use of a bridge. I see Dr. Goldberg every three months to maintain my implants. It was well worth everything I invested. Dr. Goldberg did an excellent job."
— Josephine H.
---
"When I first learned that I would need extensive implant surgery, I was apprehensive and anticipated a prolonged, painful experience. Thankfully, I was referred to Dr. Goldberg and my concerns proved to be totally unwarranted.
"Dr. Goldberg himself was extraordinarily sensitive, gentle, and professional. From our first meeting I felt comfortable and confident that I was in the right hands. The numerous implants were successful and completed with surprisingly minimal discomfort throughout the entire process.
"I'm also indebted to Dr. Goldberg's team, who all were supportive, caring, and skilled. All in all, having been referred to Dr. Goldberg was the best thing that could have happened to me."
— Shel G.
---
"Dr. Goldberg, thank you again for taking the infected tooth out. You are a really wonderful dentist. You made everything easy for me, and for this I am grateful!"
— M. M.
---
"The only person I ever knew to get dental implants was a patient of Dr. Goldberg. She had such an easy time of it, raved about him, and had such a gorgeous smile I felt compelled to become his patient. What needs to be noted is that I reside in Queens, New York. However, I would commute to his office even if I lived on the moon.He is caring, patient, talented; my guess, the best periodontist on the planet!
"His work on me was extensive: extractions, fourteen upper dental implants, sinus lift, bone grafting! All of which occurred WITHOUT PAIN, WITHOUT INFECTION, WITH COMPREHENDABLE EXPLANATIONS, RESPECT FOR MY SCHEDULE, AND WITH THE SPEEDIEST COMPLETION POSSIBLE.
"The man is truly a gentleman!
"All of the people working in his office are exactly like him: kind, thoughtful, helpful, super-pleasant, and major talented at whatever their job assignments are.
"In short, it would be a life-altering mistake to go to anyone else! This assessment will only cause his caseload to multiply. I hope I still can get an appointment with him!"
— Joyce M.
---
If you'd like to share some kind words and smiles, please ask our front desk staff for a comment card at your next appointment. We'd love to hear about your experience!