Implant-Supported Fixed Denture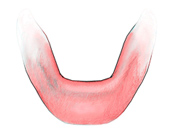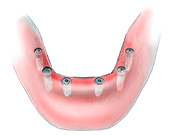 The patient comes in with no existing teeth, severely broken down teeth, or wearing a full denture. The supporting implants are placed around the mouth, provided there is proper bone density.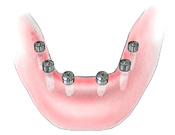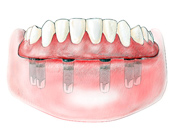 Once the implants are securely anchored in the bone, the abutments, which support the teeth, are affixed to the implants. A full set of teeth are attached to the abutments to give the patient proper form and function — all within a few hours.
Illustrations courtesy of 3i Implant Innovations, Inc.
Photographs of Dr. Goldberg's work